The Atlantic, is a 25-floors condominium building located on D Street between 1st. and 3rd, in Vedado, Havana, Cuba, in a privileged area near the Malecon Havana. It is the first construction erected by the Cuban-Italian joint venture Azul Inmobiliaria, founded in 1999 in association with the Italian partner B & D International and which constitutes a franchised holding company in Cuba where it is known as Inversiones Punta del Morro. Its construction began in 2000 and was inaugurated on February 10, 2007. It is considered a symbol of modern Cuban architecture.
It consists of a lobby on the ground floor along with an office, 5 floors of parking, a terrace and swimming pool on the sixth floor. The 96 apartments are distributed in 15 levels from the eighth floor, at a rate of 6 per plant. At level 23 there are several swimming pools and technical facilities on 24 and 25. In addition, a 5-storey side building is part of the complex, with three shopping centers and six homes.
Initial price € 9,800,000.00 + taxes for the entire building, current income of 5% net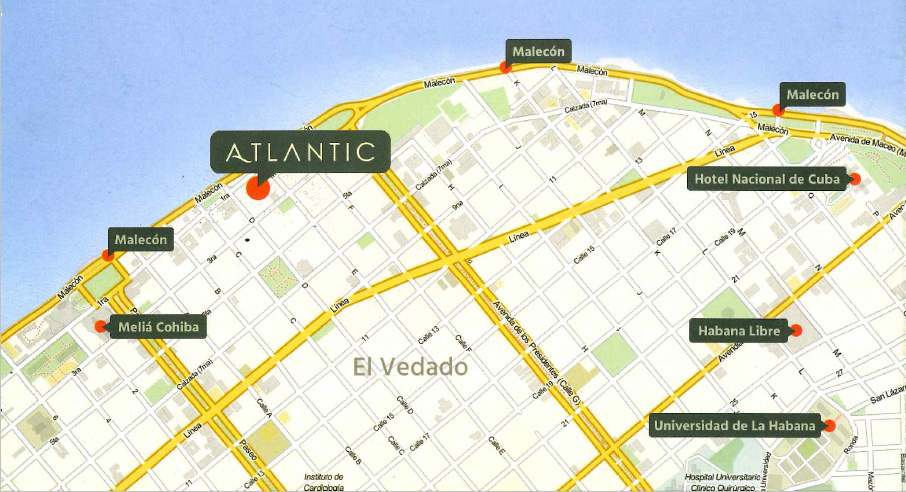 LUXURY SERVICES

Reception, lifts, kitchens equipped with all types of appliances, swimming pool, reserved parking areas, cleaning and maintenance services, alarm systems, intercom, electric generator, extinguishing system.

Anti-cyclonic windows, autonomous air conditioning, carrara marble floor, Venetian stuccos, electric gate with cameras, armored doors, furniture and accessories of Italian quality.

*IBS acts as a legally authorized intermediary





ESPANOL:
El Atlantic, es un edificio de condominios de 25 pisos ubicado en calle D entre 1ra. y 3ra, en el Vedado, La Habana, Cuba, en una zona privilegiada cerca del Malecón habanero. Es la primera construcción erigida por la empresa mixta cubano-italiana Azul Inmobiliaria, fundada en 1999 en asociación con el partner italiano B & D International y que constituye un holding con franquicia en Cuba donde se le conoce como Inversiones Punta del Morro. Su construcción comenzó en el año 2000 y fue inaugurado el 10 de febrero de 2007. Es considerado un símbolo de la arquitectura moderna cubana.

Está compuesto por el lobby en la planta baja junto con una oficina, 5 pisos de parqueos, una terraza y piscina en el sexto piso. Los 96 departamentos se encuentran distribuidos en 15 niveles a partir del octavo piso, a razón de 6 por planta. En el nivel 23 hay varias piscinas y locales técnicos en el 24 y 25. Además forma parte del conjunto un edificio lateral de 5 plantas, con tres centros comerciales y seis viviendas.

precio inicial € 9.800.000,00 + impuestos para todo el edificio ingresos corrientes del 5% neto


LUXURY SERVICES

Recepción, ascensores, cocinas equipadas con todo tipo de electrodomésticos, piscina, estacionamientos reservados, servicios de limpieza y mantenimiento, sistemas de alarma, portero automático, generador eléctrico, sistema de extinción.

Ventanas anticiclónicas, aire acondicionado autónomo, suelo de mármol carrara, estucos venecianos, portón eléctrico con cámaras, puertas blindadas, muebles y accesorios de calidad italiana.

*IBS actúa como un intermediario legalmente autorizado.